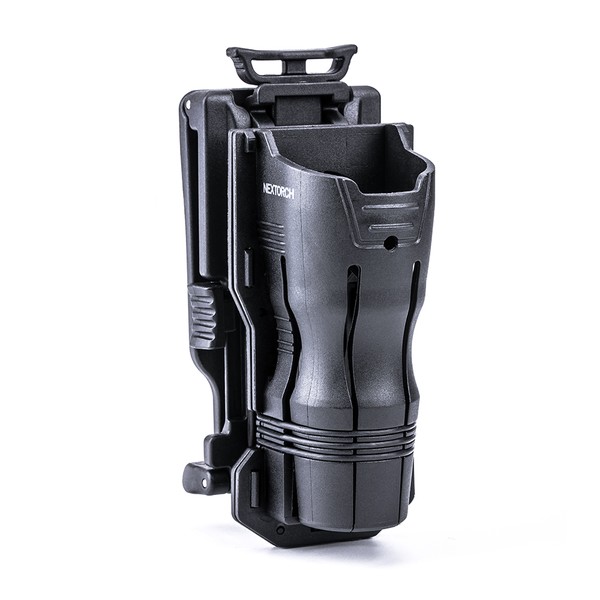 NEXTORCH V61 Flashlight Holster - 360 Degree Rotatable, Belt Clip with Width Reduction for TA30, TA15, TA01, TA40, P5G, TA5, PA5,P10 and more

NEXTORCH Flashlight Holster - 360 degree rotatable, adjustable belt mount, MOLLE compatible, individual tensile strength.
€ 25.95
*
Unit price
€25.95 / piece
Ready for shipping, delivery in 48h
---
* Incl. VAT excl. Shipping
The simplest solutions are often the best: V61.
Simple to use, robust and as individual as you are. This holster adapts to you, not the other way round!
Thanks to three O-rings, the V61 torch holster can be optimally adapted to the respective torch and even to personal preferences in no time at all:
If you take out one or two O-rings on the V61 holster, the strength is reduced. This way, for example, larger torches fit in perfectly - or if you don't like your torch to sit so tightly in the holster, you can adjust it very easily. The NEXTORCH V61 holster fits torches with a head / tail diameter of 27 - 30 mm. An ingenious mechanism allows the torch holder u to rotate 360° and lock in 16 positions. So you can illuminate everything in front of you and have both hands free.
The solid belt holder of the NEXTORCH V61 torch holster fits belts up to 55 mm wide and is of course 100% compatible with all MOLLE systems.

The following LED torches from NEXTORCH are ideally suited for the V61 holster: TA30, TA30 OPERATOR, TA01, TA15, E51.
Material: PA + GF
Weight: 96 g
Colour: Dark grey matt
Dimensions: 122 × 55 × 68 mm
For belts: up to ≤ 55 mm wide
Compatible torches: 27 - 30 mm (tail / head diameter).
Operating temperature: -30°C to +60°C