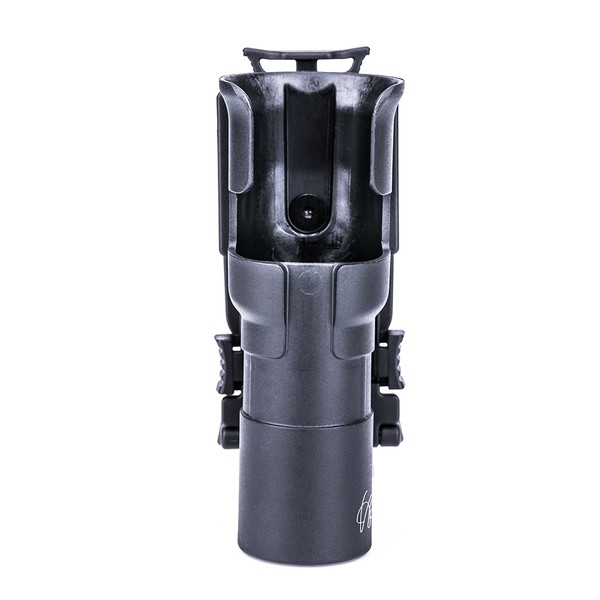 NEXTORCH V31 Tactical Flashlight Holster- 360 Degree Rotatable & Lockable, Belt Clip with Width Reduction, Molle Compatible.

Professional duty holster with switch-on protection for the NEXTORCH TA30C / TA30v2 & TA30 OPERATOR flashlight
€ 27.95
*
Unit price
€27.95 / piece
Ready for shipping, delivery in 48h
---
* Incl. VAT excl. Shipping
The V31 torch holster was developed together with emergency services personnel and offers outstanding practicality.
This ultra-light, extremely robust duty holster prevents the torch in the holster from being switched on unintentionally under any circumstances.
A sliding belt mount allows the V31 torch holster to fit perfectly on all standard duty and deployment belts. The V31 flashlight holster can be quickly and securely attached to all tactical waistcoats and MOLLE systems.
The torch holder of the V31 holster can be easily rotated 360° and securely fixed in the desired position.
The V31 torch holster is made of a resistant nylon-fibreglass material, is odourless and has a dark matt finish against light reflections. The material is insensitive to oil, salt water or acids.
This holster is designed in such a way that the tactical torch can be removed reliably and safely in a flash in any position.
To protect against unauthorised removal or loss (running, jumping, rolling, rappelling overhead, etc.), the torch's FR1 guide is fixed in the V31 holster.
Please note:
The V31 service holster is only for the NEXTORCH TA30C / TA30S / TA30v2.0 / TA30 OPERATOR / TA30P in conjunction with the FR1 guide aid (not included)!
Material: nylon fibreglass + stainless steel
Weight: 97g
Colour: Black matt (RAL9005)
For belt widths: 36 to 58 mm
Dimensions: 54mm(width) x 130 mm (length)