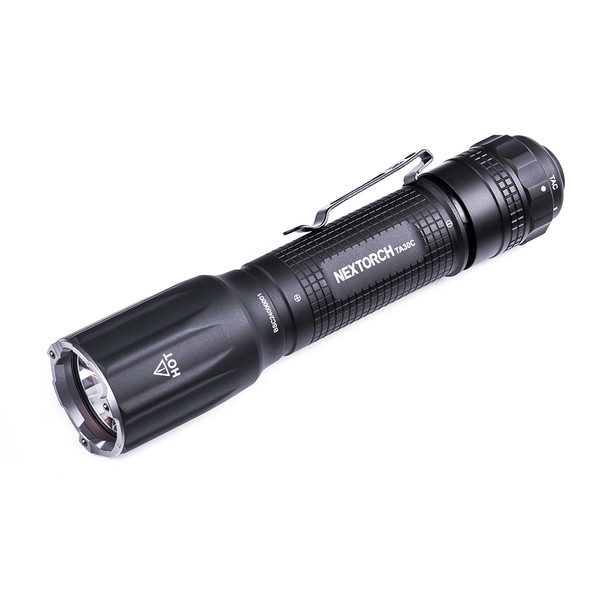 NEXTORCH TA30C Tactical LED Flashlight, 1600 Lumen, Head with Nano Ceramic Glass Breaker, Strobe Function

Further development of the legendary TA30 operational torch. More power, more functions, uncompromisingly tactical.
nextorchVueTheme::Single.CustomTechnicalData
€ 104.90
*
Unit price
€104.90 / piece
Ready for shipping, delivery in 48h
---
* Incl. VAT excl. Shipping
nextorchVueTheme::Single.YoutubeHeadline
The NEXTORCH TA30 has become one of the most widely used tactical torches in the world thanks to its unique tactical superiority.
Experts from the police, armed forces and professional security services describe the TA30 as the only truly tactical torch.
The first generation TA30 already had an impressive 1,100 ANSI lumens, which was soon expanded to a more powerful 1,300 ANSI lumens thanks to new LEDs and technology.
This LED torch is a real global success.
Now NEXTORCH could have simply rested on this great success, but this does not suit this innovative company. NEXTORCH is continuously expanding its lead and is happy to pass it on to its users immediately. As a logical consequence, the new TA30C can now provide convincing safety in use.

What is new about the TA30C?
The most important feature has been retained in the new TA30C: the uncompromisingly simple and stress-proof operating concept with the patented ring switch and the instant light that only lights up as long as it is held down.
The instant strobe flash when the thumb is pressed down has also remained. For the continuous light function, the NEXTORCH TA30C has the ring switch, which makes it very easy to dim the light, e.g. to use it as a reading light for checking documents.
Instead of the 1,300 ANSI lumens, real, tested 1,600 ANSI lumens are now available. The runtime at the highest light level is a remarkable 2.5 hours. Dimmed to the lowest level, even 50 hours of light are possible with one battery charge.
As a new feature, the 18650 battery supplied now has a USB-C charging port, so charging is even faster and you don't need a special charger, a mobile phone charger, a power bank or the USB port in the car are sufficient.
An LED built into the battery informs you when the battery is fully charged. If there is no way to charge the TA30C's battery, two CR123 batteries can easily be used.
As a further novelty, a battery status indicator was added to the TA30C at the special request of many special units. Once again typical NEXTORCH: the development of this function took place exclusively in practice. When the ring switch of the new NEXTORCH TA30C is operated, a very faint blue glowing ring in the rear switch reliably informs about the battery status. The faint blue glow only lights up briefly after the ring switch has been operated.
The glass breakers at the front of the lens crown of the TA30, often copied by many torch manufacturers, have also remained, but here too a change has been made to meet the requirements of the emergency services: Instead of stainless steel polished to a high shine, which can lead to unwanted reflections and thus reconnaissance of the other side, the lens crown of the TA30C is now made of high-strength, grey titanium and permanently matt-finished. A sensible and valuable improvement.
The stroboscope function has also been optimised. Instead of only flashing at one frequency, the TA30C changes the flash frequency while it is activated. As many tests have impressively proven, the desired effect of disorientation on the opponent is strongly intensified by the changing flash frequency. This state in attackers occurs almost instantaneously, as the rapid succession of light and dark overwhelms the human brain. This is especially true for perpetrators who are under the influence of BTM and/or alcohol, as numerous incident reports prove.
Fakten zur NEXTORCH TA30C
Patented switching concept

Real 1,600 ANSI lumens

303 metre luminous range

Incl. USB-C battery

Innovative battery status display

Lens crown made of titanium with nano-ceramic glass breaker

Waterproof up to 2 metres
Illuminant: Luminus SST-40-W

Modes: 1,600lm / 330lm / 20lm

Run times: 2h 30min / 4h 30min / 50h

Housing material: Aircraft grade alumnium Mil-Spec Type III scratch resistant & hard anodised

Light ranges: 303 metres / 130 metres / 24 metres

Waterproof: IPX-8 ≙ 2 metres water depth

Drop height: 2m

Power supply: Rechargeable Li-on battery or two CR123 batteries.

Dimensions: 136mm x 30mm x 23mm

Weight: 97g (without battery)
Diese Werte wurden unter Labor-Bedingungen ermittelt und können zwischen Taschenlampe, Akku und klimatischen Bedingen (Umgebungstemperatur / Luftfeuchtigkeit / etc.) um +/- 15 % abweichen. Durch den elektronischen Überhitzungsschutz kann die Leuchtdauer abweichen.
Bei den mit ANSI gekennzeichneten Daten handelt es sich um Werte, die gemäß dem " ANSI/PLATO FL 2016 & ANSI/PLATO FL 2019." nach wissenschaftlichen Richtlinien unabhängig geprüft und bestätigt sind.