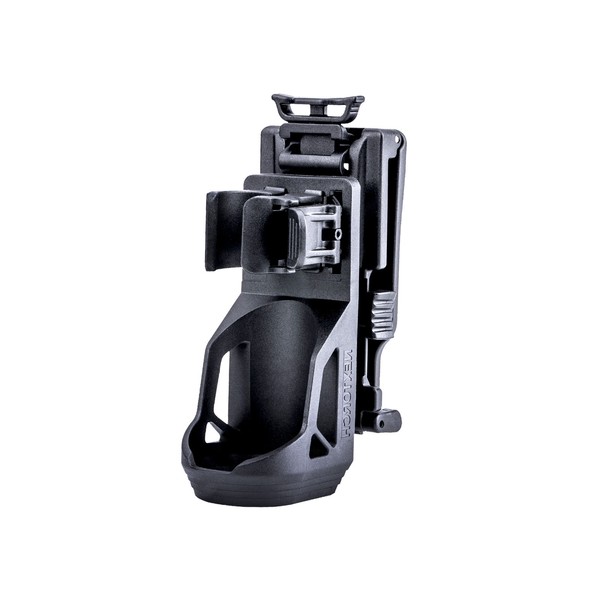 NEXTORCH V51 Tactical Flashlight Holster - 360 degree rotatable, quick release, belt clip with width reduction for TA41, TA30MAX, TA30, TA40, P5G, TA5, PA5 and more

Tactically smart: torch holster V51 - 360 degree rotatable, quick-release fastener, variable belt clip. With torch safety catch.
€ 27.95
*
Unit price
€27.95 / piece
Ready for shipping, delivery in 48h
---
* Incl. VAT excl. Shipping
Tactical torch holster with lock and 360° adjustment.
The bottom of the NEXTORCH V51 torch holster has a hole, so the inserted torch can be switched on, shine forward and you have both hands free.
The quick-release fastener can be individually adjusted to fit most tactical torches - all mission torches with a head diameter of 25 - 36 mm fit in this robust holster.
The locked torch is absolutely safe in the V51 holster from unwanted removal or loss when running, jumping or climbing - even "overhead" abseiling is guaranteed feasible with this tactical torch holster.
The ingenious and secure belt holder can be perfectly adjusted to the desired belt width and locked in place, this torch holster fits all belts up to 55mm wide.
Of course, the NEXTORCH V51 is 100% compatible with all MOLLE systems. The durable material of this holster is especially long-lasting and perfectly optimised for the often rough everyday use.

The following NEXTORCH torches fit into the V51 holster: TA41, TA30 MAX, TA30, TA30 OPETATOR, TA01, P80, T5G, TA5, TA40.