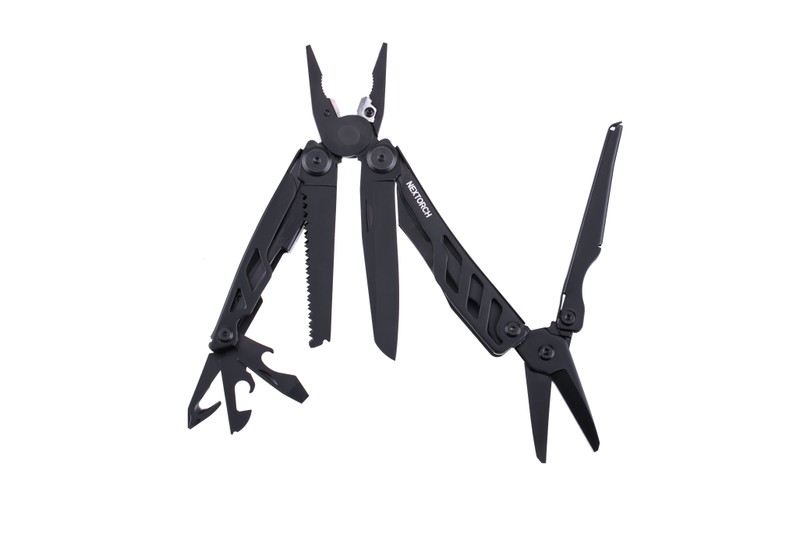 NEXTORCH MT10 Multi-Tool Flagship DE Version Multifunction Tool Multitool black

High-quality, solid multitool with ingenious functions and masterly workmanship.
€ 59.00
*
Unit price
€59.00 / piece
Ready for shipping, delivery in 48h
---
* Incl. VAT excl. Shipping
The new NEXTORCH Flagship MT10 multitool convinces with first-class workmanship, very high-quality, extremely robust stainless steel and numerous, useful tools.
The tools are mainly made of 5Cr15MoV, are pleasantly easy to open and fit perfectly in the hand thanks to the ergonomically optimised housing.
The corners and edges of the NEXTOOL Flagship are pleasantly rounded, so working is guaranteed to be effortless even with very large force transmission. The black, slightly matt anodised finish is scratch-resistant and gives this exceptional multitool a noble look.
The new NEXTORCH MT10 is the world's first multitool to feature a glass breaker made of nano-ceramic. This highly effective glass breaker can be used particularly quickly in an emergency because it is anchored on the outside of the housing.
Especially when travelling, you should always have this multitool with you because of its capabilities as a vital rescue tool! In addition to the efficient glass breaker, the flagship has a rope and belt cutter on board for emergencies.
Here is an overview of the individual functions of the NEXTORCH MT10 (German version, §42a compliant):
1. needle-nose pliers made of 3Cr13 steel with higher hardness and wear resistance.
2. pliers made of 3Cr13 steel with higher hardness and wear resistance
3. exchangeable wire cutter in premium quality
4. interchangeable hard wire cutter in premium quality
5. crimping pliers made of 3Cr13 steel with higher hardness and wear resistance
6. saw
7. knife made of 5CR15MOV stainless steel with nail clip and linerlock
8. Phillips cross-head screwdriver
9. rope / belt cutter
10. wire stripper
11. can opener
12. bottle opener
13. slotted screwdriver
14. nano-ceramic glass breaker
15. scissors with spring mechanism made of 420J2 stainless steel
16. ruler

Dimensions closed: 110mm x 40mm x 21,5mm
Dimensions opened: 163mm
Weight: 245g