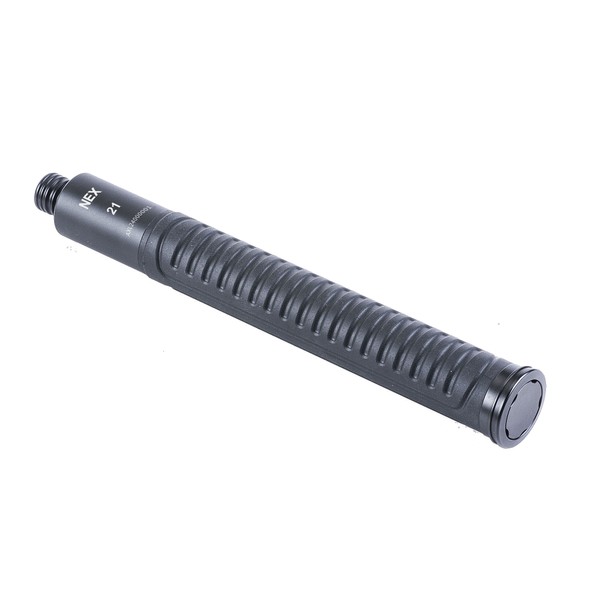 NEX 21A Quicker Air Duty Baton with NEXLOCK, open length: 505mm, weight: 350g

High-quality baton with internationally patented locking system. Lightweight version.
Delivery in approx. 4 weeks
---
* Incl. VAT excl. Shipping
The NEX-BATON 21" duty baton was developed together with internationally recognized experts from the fields of police, personal security and security services.
Compared to conventional models, the NEX-BATON has clear improvements that provide distinct, tactical advantages:
The telescopic mechanism has been completely redesigned and clearly improved - with the result that the NEX-BATON is very smooth-running and much more reliable from day one.
This excellent mechanism makes it very easy to extend the NEX-BATON to its full length the first time it is "pulled", and it is also very easy to retract it again by pressing a push button.
The new NEX-BATON telescopic insert pole is made of a high-quality aluminum alloy, which reduces the weight to 340g. The internal components are also made of first-class materials.
All of these features make it easier to carry with the rest of your equipment on a daily basis. The light weight also gives the user more power & energy on the duty pole because there is less mass to move.
All these features make the NEX-BATON 21" a durable and reliable partner in all situations.
The TPE (Thermoplastic Elastomers) grip piece of the NEX-BATON has also been completely newly developed and has convinced in the practical test especially by the excellent slip resistance of the material in wet conditions.
The NEX-BATON handle is absolutely secure in the hand in any situation and reliably absorbs shocks.
Another advantage is the ease of maintenance of the new NEX-BATON; without a special tool, the NEX-BATON insertion pole can be effortlessly disassembled for cleaning and maintenance and reassembled.
The NEX-21" can also be reliably stowed in the NEX-TOOL Holster KT5512 when extended, allowing the user to quickly free his hands.
The holster is universally adjustable in the carrying and drawing angle and is suitable for all 50mm belts.
Material: 7075alu+42CrMo steel
Dimensions: closing length 224mm / open length: 505mm
Weight: 350g
Impact Resistance: 2m