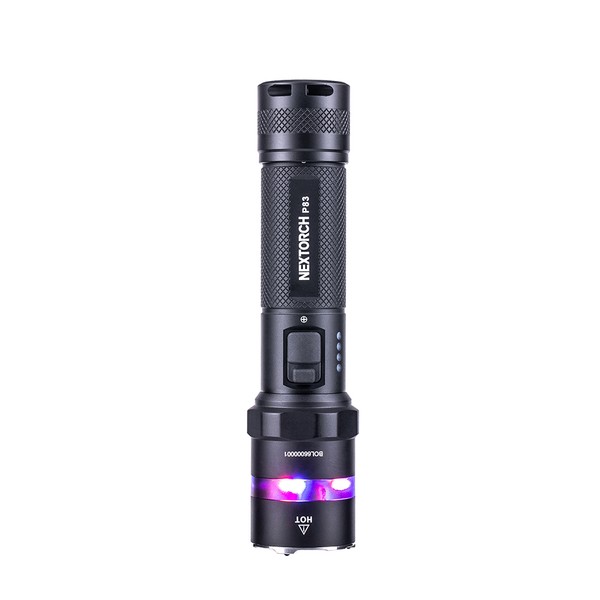 NEXTORCH P83 Rechargeable LED Torch with 360° Warning Light Function + Emergency Glass Breaker

Thanks to the P83 rechargeable torch, being well prepared on duty, in your free time and when travelling is now very easy. This versatile torch convinces with a simple operating concept and ingenious extras.
nextorchVueTheme::Single.CustomTechnicalData
€ 71.50
*
Unit price
€71.50 / piece
Ready for shipping, delivery in 48h
---
* Incl. VAT excl. Shipping
nextorchVueTheme::Single.YoutubeHeadline
The waterproof LED torch with all-round signal light, rescue glass breaker and extra powerful rechargeable battery: NEXTORCH P83.
The P83 offers real 1,300 ANSI lumens of luminosity and 280 metres of light range. The one-handed operation is simple and self-explanatory.
Switch on, dim, switch off - all with one switch. The high-quality reflector of this ingenious torch provides the perfect beam of light:
Strongly focused on the inside for optimal distance vision and everything around it broadly and glare-free perfectly illuminated in the ideal brightness.
In addition to the normal light, the NEXTORCH P83 can even be used as an all-round light with an optimal 360° signal effect. For this purpose, the P83 flashes the warning light in red and blue far visibly in all directions.
The scope of delivery of this robust LED torch includes an extra strong rechargeable battery as a matter of course. This battery is charged via an integrated USB-C port wherever there is a USB-C port:
Whether it's a mobile phone charger, power bank, in the car or on the PC - the P83 can be powered almost anywhere, regardless of a special charger.
Once fully charged, the P83 torch has enough power for up to 25 hours of runtime. Four LEDs on the side of the torch housing provide reliable information about the current charge status of the battery every time the torch is switched on or the mode is changed.
At the front of the lens crown, the 100% waterproof and absolutely shockproof P83 has tiny spheres made of nano-ceramics, which are neither sharp nor pointed, but which quickly and reliably clear glass out of the way.
Whether for on-duty access, rescue operations or to free yourself: the reliable NEXTORCH P83 is guaranteed to remove car windows, for example, in a fraction of a second.
Light source: Brand LED
Modes: 1,300 lm / 350 lm / 25 lm ( according to ANSI )*
Warning light modes: 2 lm flashing red/blue / 2 lm flashing red / 2 lm red light / 2 lm blue light
Running times: 2h / 4h 30min / 60h ( according to ANSI )*
Running time signal light: Red-blue flash: 35h / Red-flash: 50h / Blue-flash: 50h / Red-light: 25h / Blue-light: 25h
Light ranges: 280 metres / 140 metres / 35 metres (according to ANSI)*.
Waterproof: IPX-7 ≙ 1 metre water depth ( according to ANSI )
Drop height: 1m ( according to ANSI )
Power supply: Rechargeable Li-on battery
Dimensions: 155×28.5×35 mm
Weight: 177g (without battery)