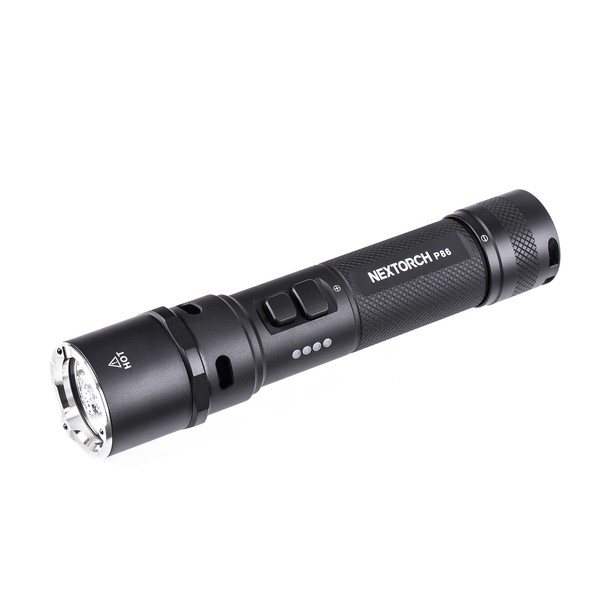 NEXTORCH P86 - 1600 lumen rechargeable LED torch with 120dB sound module - Emergency glass breaker

Simple operating concept combined with a sophisticated design and a 120 dB sound module for signalling
nextorchVueTheme::Single.CustomTechnicalData
€ 93.50
*
Unit price
€93.50 / piece
Ready for shipping, delivery in 48h
---
* Incl. VAT excl. Shipping
The Nextorch P86 offers true 1600 ANSI lumens brightness and a 120dB loud sound module.
One-handed operation is simple and self-explanatory. Switch on, dim, switch off – all with one switch. The high-quality reflector of this ingenious flashlight ensures the perfect beam of light: strongly focused on the inside for optimal long-distance visibility and everything around it is wide and glare-free and perfectly illuminated with the ideal brightness.
In addition to the normal light, the NEXTORCH P86 can even create a sound effect.
In the lens crown, the P86 has tiny balls made of nano-ceramic that are neither pointed nor sharp, but break glass quickly and reliably.
Whether for access, rescue operations or to free yourself - the NEXTORCH P86 removes car windows or similar quickly and reliably.
Furthermore, the sound module can be activated by pressing the second switch. As long as the switch is pressed, the P86 will continue to shrill.
An extra strong battery is of course included in the scope of delivery of this robust LED flashlight. This battery is charged via a USB-C port integrated into the lamp head wherever there is a USB-C port:
Whether it's a cell phone charger, power bank, in the car or on the PC - the P86 can be supplied with energy almost anywhere, regardless of a special charger.
As usual with the P series, the battery charge level is displayed using translucent dots.
Facts about the NEXTORCH P86:
• True 1600 ANSI lumens
• Simple operating concept
• 360° sound module with 120dB
• Incl. extra powerful battery
• With USB-C port for charging
• 100% waterproof, shockproof and shatterproof
Scope of delivery:
NEXTORCH P86 LED flashlight
Li-on battery
USB-C charging cable
Operating instructions (German)
Lanyard
Output: Instantaneous light 1600lm / 240lm / 25lm
Running time: 2h 15min / 6h 30min / 60h
Battery: 1×2600mAh 18650 (included)
Range: 305m / 110m / 35m
Material: Aviation grade aluminum 6061-T6 with hard anodized finish
Shock resistance: 2m
Water resistance: IPX-7, 1m
Dimensions: 160mm (length)×37mm (head)×28mm (body)
Weight: 191g (without batteries)