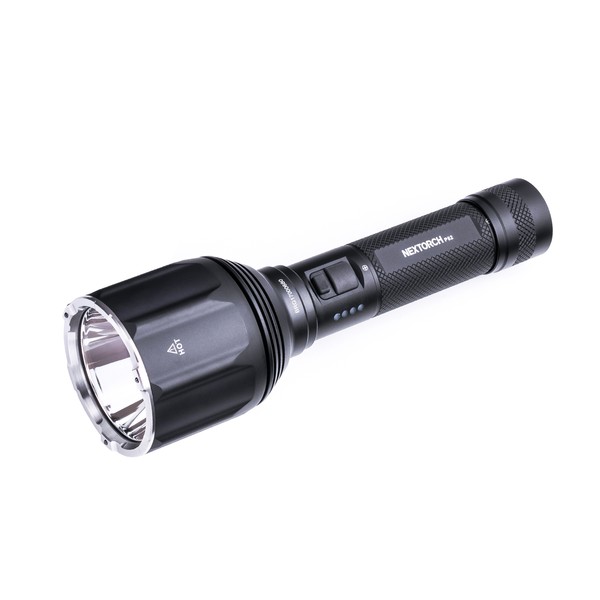 NEXTORCH P82 with 1,100 Metre Light Range, the Perfect Duty Flashlight

Eine der weltweit reichweitenstärksten LED-Taschenlampen im handlichen Format. Ultra-Thrower für dienstliche Anwendungen.
€ 108.90
*
Unit price
€108.90 / piece
Ready for shipping, delivery in 48h
---
* Incl. VAT excl. Shipping
The NEXTORCH P82 is a powerful LED flashlight with an impressive light range of 1,100 metres.
This enormous range brings clear advantages, especially in tactical missions.
The operation of the P82 is self-explanatory and stress-proof. All modes are easily controlled via a switch: switch on, dim, switch off.
A powerful rechargeable battery is included in the scope of delivery, which is charged particularly quickly via a USB-C connection.
Thanks to modern USB-C technology, the P82 can be charged anywhere there is a USB port, regardless of special chargers. LEDs on the side of the torch housing provide reliable information about the current charge status of the battery.
With one battery charge, the P82, weighing only 276g, has power for up to 85 hours of light.
Thanks to the high-quality materials and excellent manufacturing quality, the NEXTORCH P82 is guaranteed waterproof, shockproof and shatterproof.
Light source: White LED
Modes: 425 lm / 33 lm / 1200 lm / Momentary light / Strobe
Run times: 4 h 30 min / 85 h / 3 h 30 min / - / -.
Power supply:21700 (4800 mAh) Li-ion rechargeable battery
Light ranges: 645 m / 181 m / 1100 m
Dimensions: 188.3 mm (length) x 28.5 (body diameter) x 60.8 mm (head diameter)
Weight: 276 g (without battery)
Drop height: 1 m
Waterproof: IPX7 ≙ 1 metre diving depth