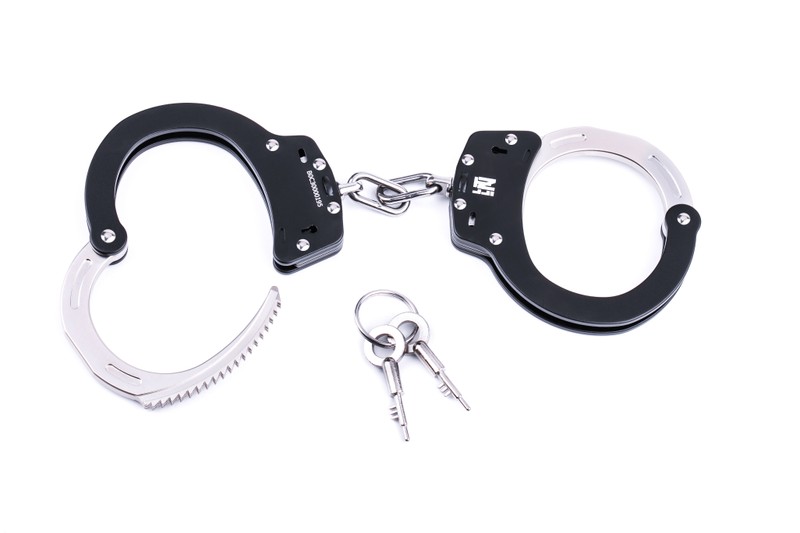 NEXTORCH HC10 Handcuff with chain connection - Lightweight and extremely sturdy

Highend handcuffs with chain connection by NEXTORCH.
Ready for shipping, delivery in 48h
---
* Incl. VAT excl. Shipping
Solid high security handcuff with solid chain connection.
The side locks cannot be reached by the wearer. The double-sided unlocking function can be quickly opened from both sides with the included key. The locks are also absolutely tamper-proof.
The locking system of this new handcuff impresses with its ingenious, like simple independently working triple rack. Thanks to its compact dimensions, the new NEXTORCH handcuff fits perfectly into all standard duty holsters.
The handcuff is mainly made of high-strength aircraft aluminum - light but extremely durable. The saved weight makes daily carrying of this modern tool much easier.
SPECIFICATIONS
Peerless.
Tamper-proof lock (e.g. against wire, paper clips, saw blade, etc.).
Doublelock (The doublelock is a mechanism that blocks the lock completely so that it is no longer possible to tighten it further).
Double-sided unlocking function.
Materials: Handcuff material: 6061-T6 aviation aluminum. Toothed rests / key: 2Cr13 stainless steel. Chain: 0Cr18Ni9 stainless steel.
Continuous, registered serial numbers for tracking
Weight: only 240g
Color: black / silver matt
Tensile strength in the longitudinal direction: 3500 N
Tensile strength across: 4300 N
Impact Resistance: 3 meters
Durability: 11,000 opening and closing operations