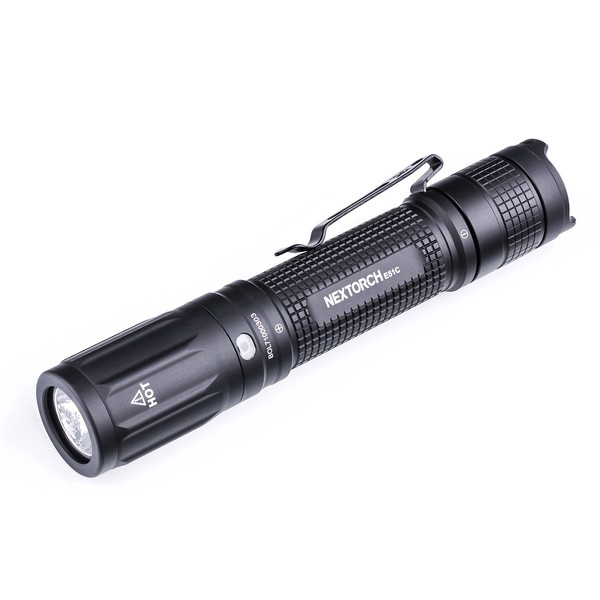 NEXTORCH E51C High Performance Rechargeable Pocket Flashlight

The NEXTORCH E51C is an 3th generation of high-performance EDC flashlight E51. Equipped with one 18650 li-ion battery with power indicator, It has a max output of 1,600 lumens and a max beam distance of 205 m, idea for EDC carry, outdoors, duty maintenance and Hardware assignments.
Ready for shipping, delivery in 48h
---
* Incl. VAT excl. Shipping
Straight Design With Palm-Size Practical & Convenient, Classic straight design with palm-size provides comfortable one-handed grip and flexible operation, portable E51C is ideal for EDC, camping, hardware work and more.
Versatile Application, It is applicable in almost all scenarios that you can think of. include outdoor lighting, duty maintenance, night patrolling, hardwarework, Self-defense ect
1600 Lumens High Output Ideal Night-Lighting Tool
Delivering a maximum output of 1600 lumens with a max throw of 205 meters, compact E51C is an ideal lighting tool for night lighting and maintenance.
Magnetic Tail Switch Single Button For 4-Modes Switching
The tail switch is upgraded to metal materials with better feel. One-button operation realizes switching of high- medium-low three lighting modes and variable frequency strobe, with clear logic and simple operation.
Hidden Type-C Direct Charge Dustproof & High Efficiency
Hidden Type-C charging port with waterproof and dustproof features compact design and convenient charging.
4-Stage Battery Indicator Keep Track Of The Power Situation
When the flashlight is turned on, the battery indicator lights up for 2s to display the current battery status for timely charging.
Comfort Grip Sturdy & Durable
Made of aerospace-grade aluminum and processed by type III hard anodizing, durable and corrosionresistant.
Equipped With Detachable Clip And Landyard
Detachable clip keeps 51C firmly connected and accessible at all times to your pocket or pack; Tail landyard design allows to free hands or more flexible operation
IPX8 Waterproof 2 Meters Submersible
Stable enough to handle the fickle environments and keep the standing high performance.

Notable Features

» Lightweight and compact flashlight - perfect EDC
» Max output of 1400 lumens, max throw of 201 meters
» Powered by 18650 2600mAh li-ion battery
» Five lighting modes for varying environments and tasks
» Protected USB-C charge port for lighting fast charging
» Single multi-functional tail switch - one hand operational
» Built for the outdoors - waterproof and rugged
• Output: 1600 lm / 340 lm / 28 lm / Strobe
• Runtime: – / 2 h 30 min / 4 h 45 min / 43 h / –
• Battery: One 18650
• Distance: – / 205 m / 102 m / 25 m / –
• Material: Aluminum Alloy
• Light Source: OSRAM P9 LED
• Diameter: 139 (length) x 23 (body dia.) x 27 mm (head dia.)
• Weight: 94 g / 3.31 oz
• Impact Resistance: 2 m
• Water Resistance: IPX8, 2 m underwater