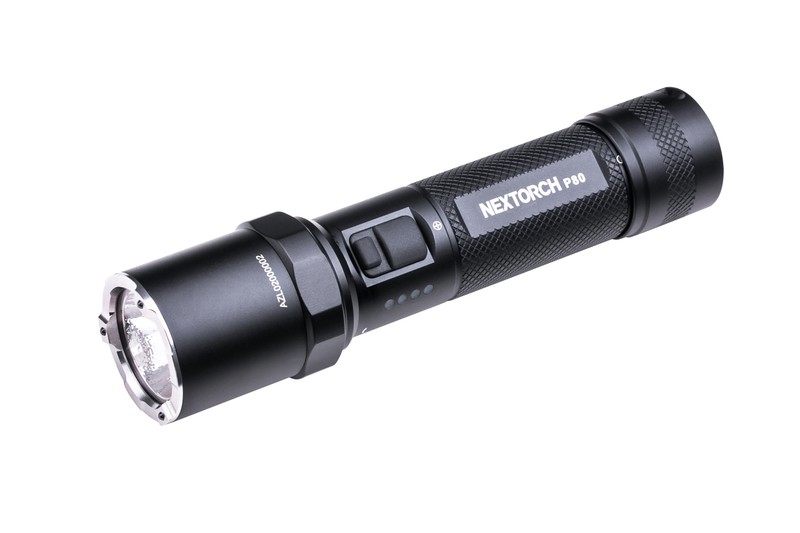 NEXTORCH P80 1,300 Lumen Insert LED Flashlight, Nano Ceramic Glass Breaker

Easy to use, battery included, with USB-C port for charging and effective emergency nano-ceramic glass breaker.
€ 65.95
*
Unit price
€65.95 / piece
Delivery in approx. 4 weeks
---
* Incl. VAT excl. Shipping
Very robust and handy torch with amazing luminosity: 1300 ANSI lumens and 280 metres of light range*.
The switch of the NEXTORCH P80 is placed at the front - a classic side switch, just the way torch fans love it.
The switch of the P80 is arranged in two parts: The rear part is for switching on and setting the desired light level.
The front part, when pressed, immediately activates the strobe flash, which dazzles very effectively with a powerful luminosity of 1300 lumens.
This new development has a glass-breaker function for emergencies and is attached to the front of the lens of this torch.
The diamond-hard material at the crown of the lens clears panes quickly and safely out of the way. There is no need to worry about the P80, it has been developed and built for such uses.
Light source: OSRAM P9 LED
Luminous flux: 1300 ANSI lumen / 350 ANSI lumen / 25 ANSI lumen / strobe
Light ranges: 280 metres / 140 metres / 35 metres
Running times: 2h / 4h 30 / 60h
Drop height: 2 metres
Waterproof: IPX7 = 1 metre
Dimensions: 150 mm x 28.5 mm x 35 mm
Weight: 177g (without battery or batteries)