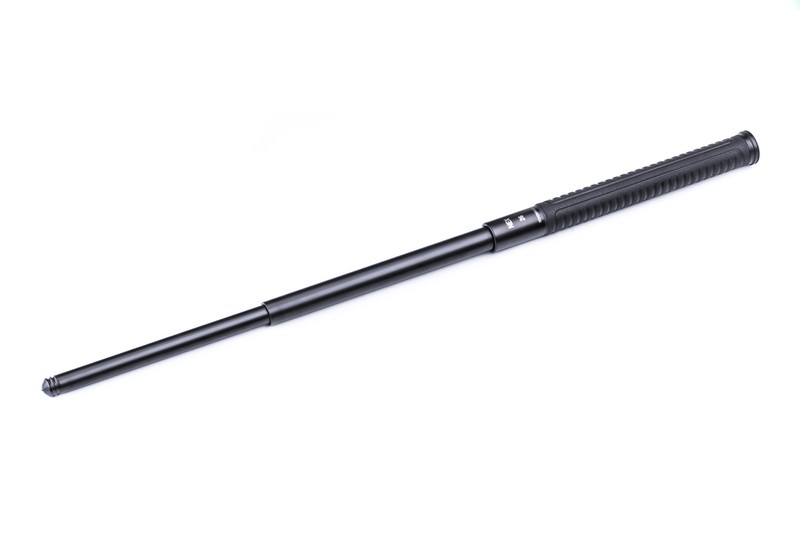 NEX N26C - telescopic baton, steel

26" telescopic baton in heavy steel design.
Ready for shipping, delivery in 48h
---
* Incl. VAT excl. Shipping
The baton to every situation
The Quicker N26C NexTorch telescopic baton is a durable and highly effective baton for anyone looking for a reliable means of self-defense that they can rely on at any time. Thanks to the baton you are able to keep a safe distance between you and the attacker and deliver a powerful punch in the event of an attack. The lenght of the baton is sufficient to keep the attacker more easily from your bodies. The ideal means of self-defense when life or property is threatened.The advantage of a telescopic baton are compact dimensions, stealth, quick-spread and use.
Anti-slide grip
Made of a durable steel alloy with a anti-corrosion surface treatment. The handle is upgraded to anti-slip TPE grip. This provides stable and firm grip in any weather. In addition, it increases the resistance to damage. To assemble the stick, just press the button on the back of the handle.
Resilient construction
The baton is designed to withstand strong falls when the baton is dropped or knocked out of the hand. The manufacturer guarantees that the baton will remain open even if it falls directly onto the striking section (tested from 2 meters).You don't have to worry so much that your baton will close when you fall out . As a result, you will not lose any time and attention .A robust and highly reliable baton.
Benefits you need to know about:
compact dimensions

anti-slip TPE grip

continuous opening/closing

innovative and unobtrusive desig

endure a fall from 2 meters
Material: Alloy Steel; TPE Rubber
Diameter: 10.83″/ 26″ (Retracted/Extended); Φ28 mm ± 1 mm (Handle Dia.)
Weight: ≤ 23.63 oz (670±15 g)
Impact Resistance: 2 m