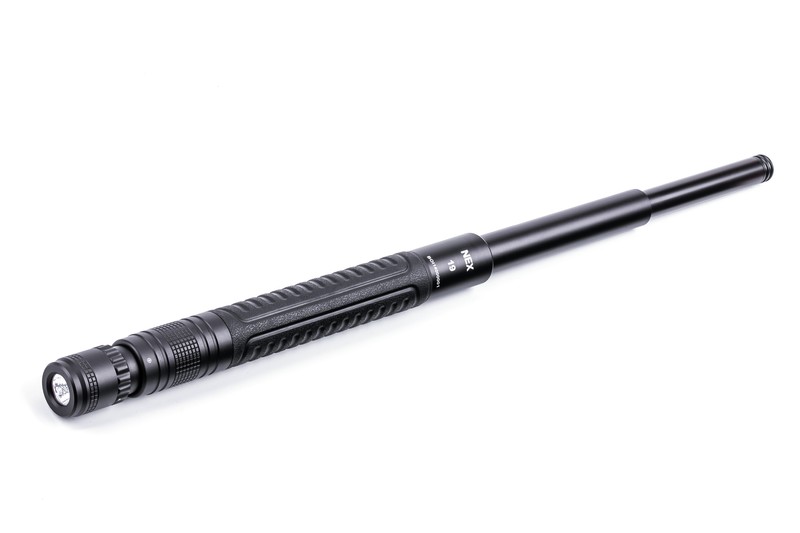 NEX N19L Flashlight Baton Quicker

The N19L is a combination of NEXTORCH flashlight & NEX Lock baton. The N19L Quic's max output is up to 410 lm, and max beam distance is up to 116 m. It shines a uniform light spot and has a strobe mode. It's designed for scenarios like night patrol, search & arrest missions, & tactical advancing etc.
Ready for shipping, delivery in 48h
---
* Incl. VAT excl. Shipping
Powerful LED flashlight and 19" insert stick in one.
The new NEX 19L impresses with its enormous robustness and excellent reliability alone.
Thanks to its feather-light weight and compact dimensions, the NEX 19L is ideal for concealed carry.
When retracted, this baton is just 27 cm long. Extended: 49 cm.
The integrated LED lamp in the handle performs 410 ANSI lumens, which is good for a lighting range of real 116 meters.
In addition to the high beam, this built-in flashlight can be switched to reading light and to strobe flashing with one hand via an ingenious rotary switch.
The ring switch for the light is so easy to grip that it can be operated safely even when wearing gloves.
A high-quality rechargeable battery is included in the scope of delivery, of course, and this even has its own USB port.
This battery can therefore be charged completely independently of special chargers.
If there is no possibility to charge the battery, normal AA batteries also fit into the NEX 19L.
For emergencies - or on-duty access - the NEX 19L has an efficient glass-breaker tip made of nano-ceramic. This tip is neither sharp nor pointed!
The enormous penetrating power is based solely on this diamond-hard material, which clears vehicle glazing and other windows quickly and reliably out of the way.
Output: 40 ml / 410 lm / strobe
Runtime: 9 h / 1 h 30 min / –
Battery: 1×Rechargeable 14500 Battery (Provided)
Distance: 35 m / 116 m / –
Material: Alloy Steel & Aerospace Aluminum Alloy
Length: 490±2 mm (Expanded); 270±1.5 mm
(Retracted) Weight: 350 g (without battery)
Drop Resistance: 2 m
Water Resistance: IPX8, 2 m Submersible