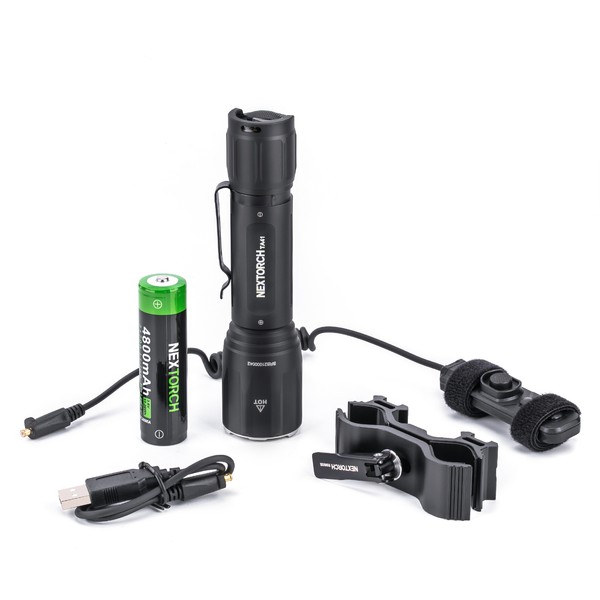 NEXTORCH TA41SET Tactical LED Flashlight with Holder and Cable Switch in Economy Set

Tactical LED torch with holder and cable switch in an economy set. Battery included!
€ 130.90
*
Unit price
€130.90 / piece
Ready for shipping, delivery in 48h
---
* Incl. VAT excl. Shipping
High-quality hunting set consisting of the NEXTORCH TA41 LED torch with 272 metres of light range*, 2in1 holder and silent cable remote control.
Waterproof, robust and absolutely reliable.
The TA41 hunting torch provides 2600 ANSI lumens and lasts up to 71 hours* on a single charge thanks to the powerful rechargeable battery that is included.
The housing is made of resistant aerospace aluminium, which makes the lamp light and tough at the same time.
The remote switch, which is also waterproof, is connected in no time - and removed just as quickly.
The battery is charged via a USB port - so no special charger is needed!
A USB cable for charging is of course included. The mount included with the NEXTORCH TA41 hunting set is suitable for the scope, on the barrel or on the Picatinny rail.
Outside the hunting season, the NEXTORCH TA41 can be used excellently as a camping, hobby and work torch.
It has 4 brightness levels, an instant light mode, a defensive flash and a fully automatic S-O-S mode - this is practical in areas where, for example, no mobile phone reception is possible in emergencies.
Bulb: CREE XHP50.2 LED
Luminous flux: 2600lm/ 700lm/ 200lm/ 28lm/ Instant light/ Strobe/ S.O.S
Running time: 2h 30min/ 3h 45min/ 12h / 71h/ --/--/--.
Power supply: 1*21700 battery with 4800 mAh.
Lighting distances:272m / 140m / 75m / 29m
Material: 6061-T6 aviation aluminium (lamp housing & bracket).
Dimensions: 148mmx 38mm x27mm
Weight: 143g (without battery)
Drop height: 2m
Waterproof: IPX-8 ≙ Waterproof to 2m depth.