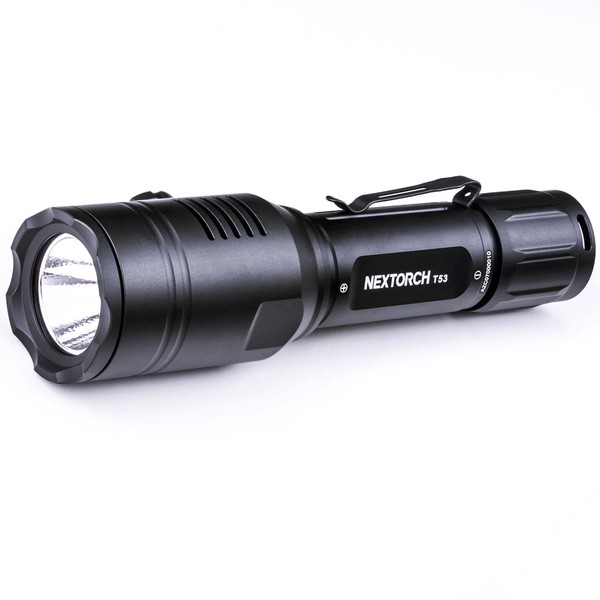 NEXTORCH T53 Set - Tri-Colour LED Hunting Flashlight (White/Green/Red) in Set incl. Rechargeable Battery, Cable Remote Control

3 hunting Flashlight in one. Patented colour change. Full luminosity with red light, green light and white light. With mounting bracket and cable switch.
€ 185.90
*
Unit price
€185.90 / piece
Delivery in approx. 4 weeks
---
* Incl. VAT excl. Shipping
Strong, coloured light without loss of luminosity - the patented NEXTORCH T53 is a true masterpiece! When it comes to best luminous power even with green or red light, this hunting LED lamp is light years ahead of others. With the T53, the desired LED, i.e. white, red or green, is positioned exactly in the centre of the reflector by an ingenious mechanism: This is the only way to have really high luminosity even with coloured light and to see all contrasts and details effortlessly even at long distances. The desired colour, depending on the hunting situation, is easily set with a rotary switch. The light ranges of this hunting LED light are impressive: with white light, the T53 reaches a tested 220 metres. The green light reaches 160 metres and the red light 122 metres.
Because the complete mechanics are installed internally, this ingenious hunting torch is 100% waterproof and dustproof. It goes without saying that the T53 is absolutely shockproof.
The scope of delivery of the NEXTORCH T53 includes a high-quality lithium-ion battery, with one charge the T53 hunting lamp reaches up to 6 hours of lighting time. This multi-colour torch can be charged wherever there is a USB port: on a mobile phone charger, in the car, or on any commercially available power bank. A USB cable is also included in the set.
In emergencies, the T53 flashes an S.O.S emergency signal completely automatically, which is a real safety plus in hard-to-reach areas without mobile phone reception.
LED's : Cree™ XP-L V5 White LED 760ANSI lumens* Colour temperature: 6500±800 K
Cree™ XP-E2 Green LED 129 ANSI lumens*.
Cree™ XP-E2 Red LED 109 ANSI lumens* / Red light with 620 - 630 nm wavelength.
Illumination distances: 220 metres white light / 160 metres green light / 122 metres red light (according to ANSI).
Operating time: 23 hours
Operates with: 18650 Li-ion battery (included) or two CR123A batteries (optional)
Waterproof: IPX-4 standard
Dimensions: 168 x 40 x 26 mm
Weight: 185 g (without batteries)