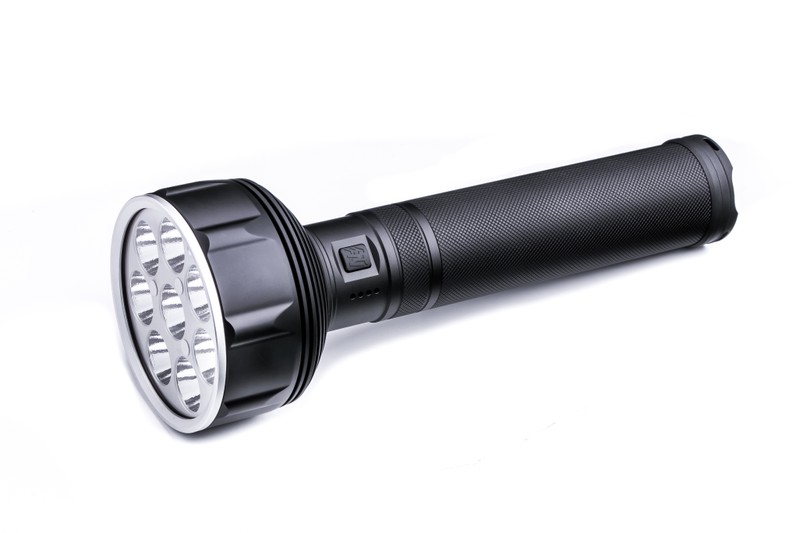 NEXTORCH Saint Torch 31 Professional Searchlight with High-Capacity Battery Pack

Professional, mobile spotlight. 740 metre light range. Up to 60 hours battery life. 100% waterproof. Accessories included.
€ 526.00
*
Unit price
€526.00 / piece
Ready for shipping, delivery in 48h
---
* Incl. VAT excl. Shipping
nextorchVueTheme::Single.YoutubeHeadline
This handy searchlight has an incredible 20,000 ANSI lumens and reaches a range of 740 metres.
When developing this high-end torch, however, the focus was first on the battery. Producing a torch with an extremely high light output is not an art.
But delivering this enormous power over a long period of time is.
NEXTORCH is a manufacturer for professional users, such as the police. A search operation can last several hours, and a professional searchlight has to be able to cope with that.
Even with the light distribution of this torch, NEXTORCH has oriented itself to the requirements of professionals:
The new NEXTORCH Saint Torch 31 effortlessly manages the balancing act between glare-free close-range illumination and perfect long-distance light. 8 computer-optimised reflectors make it possible. Even the light colour is deliberately kept neutral to reproduce colours close to nature and make contrasts easier to see - an important criterion when it comes to police work or rescue services!
At the highest light level, the new Saint Torch 31 achieves an astonishing 2 hours of runtime, and the extra-strong battery can even be used as a power bank, e.g. for smartphones.
Via the modern, integrated USB-C connection, up to 10 commercially available smartphones can be quickly charged on the go with one battery charge of this torch.
As befits a professional tool, this practical searchlight was built to be guaranteed 100% waterproof. Of course, the Saint Torch 31 is absolutely shatterproof and drop-proof.
The operation of the Saint Torch 31 has been deliberately made particularly easy, especially in stressful situations, so that it can be handled quickly and, above all, safely.
A reliable sensor has also been built in for added safety: For objects that are 5 to 100cm away from the light beam, the NEXTORCH Saint Torch 31 automatically adjusts downwards. This effectively eliminates the risk of self-reflection.
By the way, the Saint Torch 31 does not turn down the light if it is illuminated by a second light source and only if objects really come in front of the distance sensors.
- Illuminant: 8 x CREE XHB50B
- Modes: 20,000 lm / 6,100 lm / 1,500 lm / 155 lm / strobe flash / S-O-S ( according to ANSI )
- Run times: 2h / 3h 30 min / 7h 15 / 60h ( according to ANSI )
- Light range: 740 m ( according to ANSI )
- Waterproof: IPX-7 ≙ 1 metre water depth ( according to ANSI )
- Drop height: 1 m ( according to ANSI )
- Power supply 28800mAh (14.8 V) rechargeable Li-on battery
- Dimensions 285 mm x 106 mm x 50 mm
- Weight 1480 g with battery
CAUTION!
Risk of serious eye damage. This torch has 20,000 lumens* of light output.
Do not look into the beam! Never shine directly into the eyes of people or animals from less than 50 metres
Never shine the torch directly into the eyes of people or animals from less than 50 metres in high mode!
This torch is not suitable for children under 16 years of age!