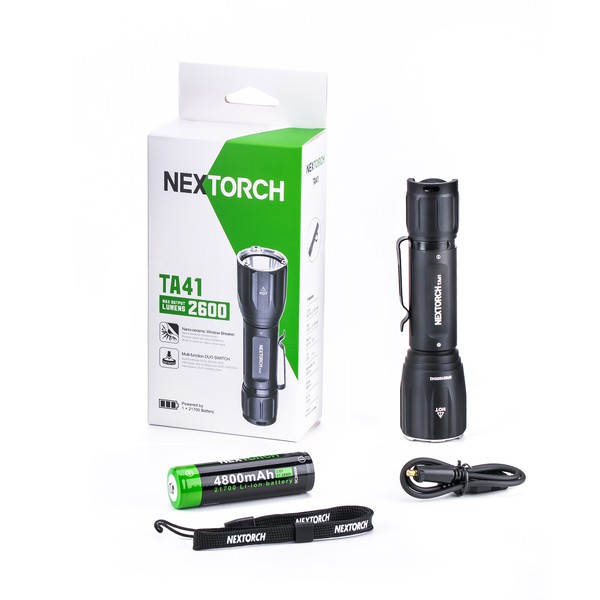 NEXTORCH TA41 Hunting LED Flashlight with 2600 ANSI Lumens Quick plug-in remote switch and rechargeable system.

The classic among tactical torches. Proven, reliable, often copied - now with the latest technology.
€ 87.95
*
Unit price
€87.95 / piece
Ready for shipping, delivery in 48h
---
* Incl. VAT excl. Shipping
NEXTORCH is one of the leading pioneers of LED technology and the first major breakthrough we made as an innovative company was over 10 years ago with the legendary TA40.
One of the first tactical LED torches ever. Reliable like no other, with enormous performance and literally light years ahead of its time.
Now the pioneer of tactical torches has been given a worthy successor - the NEXTORCH TA41.
Nothing has changed in the concept: uncompromisingly simple operation, extremely robust and outstanding performance.
A full 2,600 ANSI lumens of luminous flux are now available. The light range of the new TA41 is an impressive 272 metres and the included battery has enough power for up to 71 hours of light with one charge.
The battery of the NEXTORCH TA41 is recharged via a USB connection - so without special chargers, but independently and flexibly.
Like its predecessor, the NEXTORCH TA41 has been strictly designed for durability and reliability. The TA41 has enormous taker qualities and is also absolutely waterproof up to a diving depth of 2 metres.
Bulb: CREE XHP50.2 LED

Luminous flux: 2600lm/ 700lm/ 200lm/ 28lm/ Instant light/ Strobe/ S.O.S

Running time: 2h 30min/ 3h 45min/ 12h / 71h/ --/--/--.

Power supply: 1*21700 battery with 4800 mAh.

Light ranges: 272m/ 140m/ 75m/ 29m

Material: 6061-T6 aviation aluminium (lamp housing & bracket).

Dimensions: 148mmx 38mm x27mm

Weight: 143g (without battery)

Drop height: 2m

Waterproof: IPX-8 ≙ Waterproof to 2m depth.