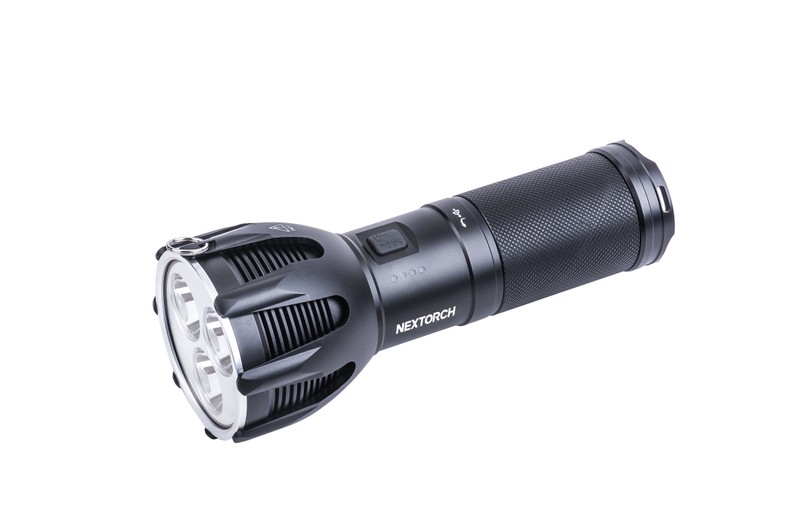 NEXTORCH Saint Torch 30 V2.0 Mobile Outdoor Searchlight for Rescue and Special Operations

Professional mobile spotlight with 8000 ANSI lumens, for many applications.
€ 329.00
*
Unit price
€329.00 / piece
Ready for shipping, delivery in 48h
---
* Incl. VAT excl. Shipping
Real 8000 ANSI lumens, a real 530-metre light range and a powerful battery with marathon runtimes: the new Saint Torch 30 V.20 immediately impresses with top values.
This waterproof, professional high-performance LED torch is a true all-round genius and child's play to operate.
The absolute powerhouse among LED torches offers an impressive light output as well as a maximum of 60 hours of battery life!
The battery of the NEXTORCH Saint Torch 30 2.0 even has so much power that you can use it as a power bank. A USB-C connection is integrated in the battery for this purpose.
4 blue LEDs, which are embedded in the side, provide information about the current charging status. These LEDs reliably show the current status every time the device is switched on or changed modes.
The light beam is the optimal mix of perfect high beam and glare-free close-range illumination. Experts in mobile LED lighting particularly praise this balanced light pattern.
Even with the light colour - i.e. the colour temperature - NEXTORCH has thought of professional applications: the light is pleasantly neutral and natural, so important details are not lost during search missions, for example, and the eyes tire less
ECHNICAL DATA*
Illuminant 3 x CREE® XHP50.2-K4
Modes 8000lm / 2400lm / 720lm / 90lm / Strobe / SOS
Running time up to 2h 15min / 4h / 7h 30min / 60h / -- / --
Light range 530 metres
Waterproof IPX-7 ≙ 1 metre diving depth
Drop height 1 metre
Power supply 4 x 2600 mAh (14.8 V) rechargeable Li-on batteries
Dimensions 200 mm x 50 mm x 82 mm
Weight 728 g with battery
Includedof delivery: Saint Torch 30 V.2.0, case, carrying strap, USB-C quick charger, USB-C cable, high-quality carrying case