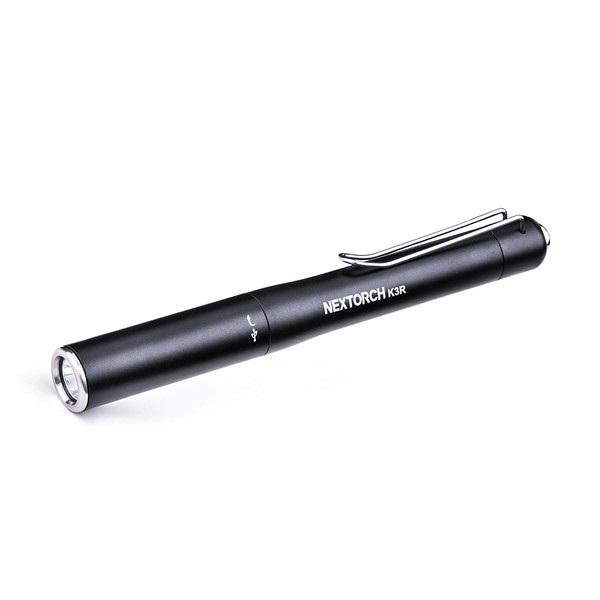 NEXTORCH K3R - Penlight K3R 350 Lumen with USB-C incl. 320 mAh Rechargeable Battery

Pen LED lamp made of feather-light, robust special aluminium and amazing luminosity. With USB -C charging connection!
€ 49.95
*
Unit price
€49.95 / piece
Ready for shipping, delivery in 48h
---
* Incl. VAT excl. Shipping
This successful masterpiece offers a modern, classic colour combination of slightly matt black/silver and impresses with elegance and amazing durability.
This pen LED torch is made of the same material that is normally used to build jet fighters: So it is correspondingly tough.
With a light output of 350 ANSI lumens, this handy pen torch literally outshines many a large torch.
The light range of the K3R is an astonishing 71 metres - a record value for a penlight of this practical size.
The operation of the K3R pen LED lamp is very simple and self-explanatory. With just one touch of a button, for example, the desired light intensity can be quickly set.
This exclusive pen torch is charged via an integrated USB-C port. So there is no need for a special charger! This pen LED lamp can even be conveniently charged on a laptop.
If need be, the NEXTORCH K3R can even submerge up to one metre under water. So in addition to impressive power, this first-class beauty has everything you need to really be there all the time. The high-strength stainless steel clip ensures that it stays safely with you.
LED: CREE XP-G3 LED
Modes: 70 lm / 350 lm / 9 lm
Running time: up to 2 h / 45 min / 11 h /
Light range: 70m
Waterproof: IPX-7 (1m)
Drop height: 1m
Power supply: 320 mAh battery (included)
Dimensions: 125 mm x 14.3 mm x 12.9 mm
Weight: 36 g incl. battery