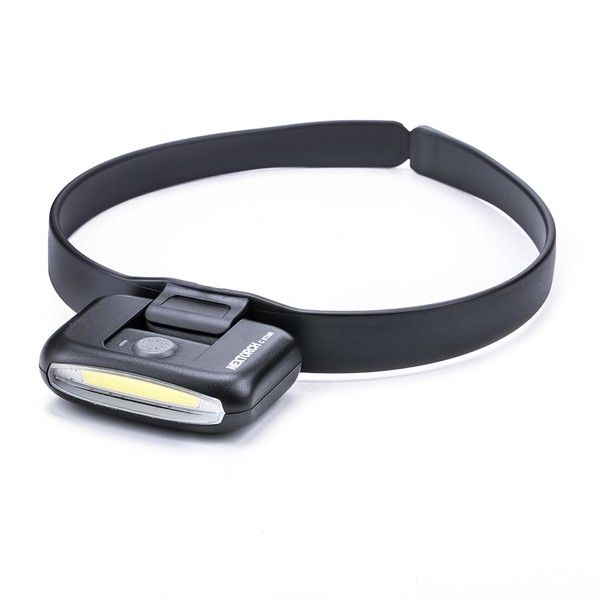 NEXTORCH C-STAR Headlamp and Necklamp with Rechargeable Battery

Ingenious: headlamp, torch and new: necklamp in one. Weatherproof, ultra-bright, dimmable, switchable to red light and with warning light function. Ideal as a reading lamp, book lamp, shoulder lamp, bedside lamp and warning light. Rechargeable !
€ 25.95
*
Unit price
€25.95 / piece
Ready for shipping, delivery in 48h
---
* Incl. VAT excl. Shipping
Why didn't anyone think of this before? Headlamps often have the disadvantage that you literally have to work in the shadow of your own hands when doing manual work.
So why not build a headlamp that you can easily wear on your neck to get light right in front of and under your hands? With the C-Star, everything is now possible!
Thanks to the simple dimming function, the C-Star is also the perfect reading lamp.
Many people simply don't like to wear a lamp on their forehead, and here too, the C-Star is the solution.
The flexible and unbreakable plastic bracket can be closed at the rear end - for safety's sake, however, this closure is released as soon as it is pulled a little harder.
Of course, the NEXTORCH C-Star can also be worn like a normal headlamp.

The NEXTORCH C-Star is equipped with a COB LED, which consumes much less power with even more luminosity and the light is wonderfully evenly distributed. The colour of the light of the C-Star by NEXTORCH is very natural, almost like daylight. Due to this natural light colour, colours, details and contrasts are much easier to see, the eyes do not tire as quickly and at work this light even increases safety. Another advantage of the COB LED is the wide illumination.

Besides the normal light, the NEXTORCH C-Star can even be switched to red light. The red light can be used, for example, as a tail light (on a backpack or helmet)* or a warning light.
Outdoors, the red light helps to maintain the night vision of the eyes, which is indispensable for hunting and fishing!
Of course, the robust NEXTORCH C-Star is absolutely waterproof and resistant.

In the carrying handle, the lamp head can be freely set and adjusted by 180°. To use the C-Star as a torch, it can be easily removed from the holder.
The rechargeable battery is charged via an integrated USB port independently of special chargers and has enough power for up to 18 hours of light with one charge.
Thanks to the low weight of 64g in total, the versatile NEXTORCH C-Star is a truly optimal companion for many situations.
LED: COB
Power: White light: 170 lm / 20 lm; Red light: 5 lm / Strobe
Run times: 2 h / 11 h / 18 h / -
Power supply: Integrated 640 mAh Li-ion battery.
Dimensions: 60 mm (length) x 46 mm (width) x 17 mm (height).
Weight: 64 g
Drop height: 1 metre
Water resistance:IPX 4