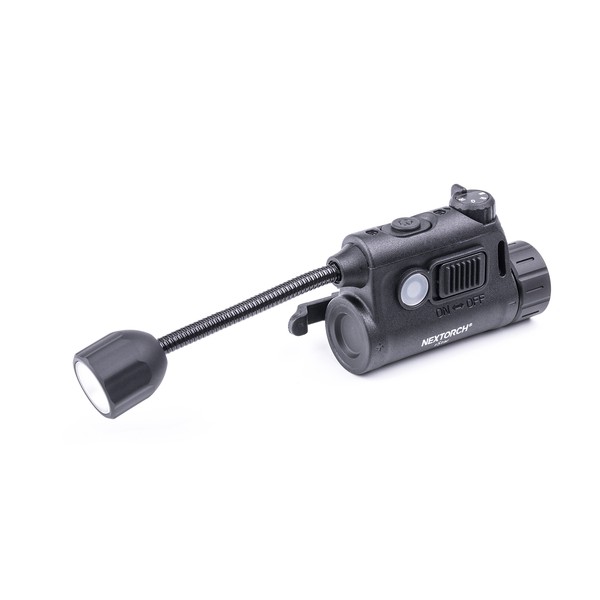 NEXTORCH rStar - Tactical Helmet Lamp with Rail Mounting and 4 Colours (White/Red/Green/IR)

NEXTORCH rStar - Tactical helmet lamp with ARC rail mounting and 4 colours + friend / foe detection
€ 75.90
*
Unit price
€75.90 / piece
Ready for shipping, delivery in 48h
---
* Incl. VAT excl. Shipping
The Nextorch rStar with White-Red-Green & IR is designed to mount on various helmet rail systems, but is universal mountable with the included Molle clip and Velcro. This allows the light to be used on all equipment. The rStar provides a white flood light for long-range reconnaissance or a lower light output for close range in the field. The IR light has a wavelength of 940nm and can therefore be detected by most night vision equipment. The special feature of the rStar is that it has an IFF light, which enables friend/foe detection. The light and compact design makes the lamp easy to handle. With the flexible "gooseneck" you can direct the light where you need it, regardless of the angle of your helmet. The rStar is powered by an AA battery.
LED: White / Red / Green / IR Light / IFF Beacon
Mode: Hight 80 lm & Low 8 lm (white light only) / Red 1 lm / Green - 3 lm / IR - 940 nm + friend/foe detection
Light range: 4m - 12m (white light)
Runtime: White - High 1.5h & Low 35h / Red - 38h / Green - 38h / IR - 38h
Water resistance: IPX4
Shock resistance: 2m
Battery: 1x AA battery
Dimensions: 133mm x 30mm x 41mm
Weight: 50g
Material: Polycarbonate, polyamide and anodised aluminium
The values for lumens, light ranges, battery life, drop height and water resistance were determined under laboratory conditions and may vary between headlamp, battery and climatic conditions (ambient temperature / humidity / etc.) by +/- 15%. Due to the electronic overheating protection, the lighting duration may deviate.
The data marked ANSI are values that have been independently tested and confirmed according to the ANSI/NEMA FL 1-2009 standard in accordance with scientific guidelines.