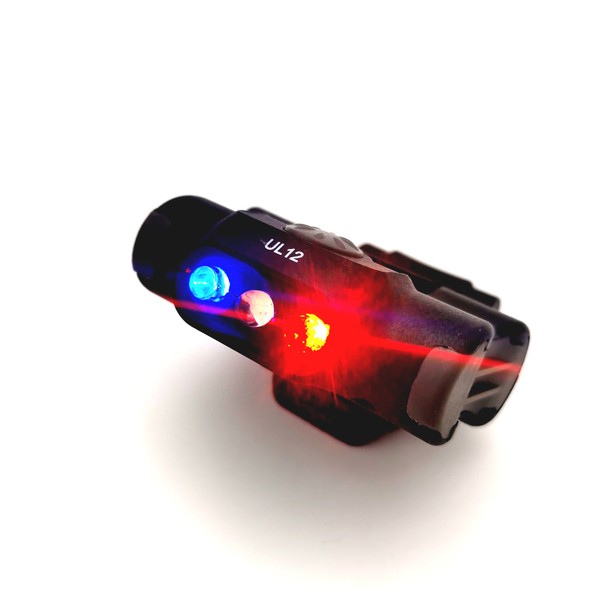 NEXTORCH UL12 - LED Clip Lamp with Warning Light Blue/Red and White Light for Caps, Molle, Backpacks, Belts

LIGHTS EVERYWHERE: UNIVERSAL LED LIGHT UL12 - the all-purpose LED Light UL 12 can really be fixed anywhere and shines exactly where you need the Light thanks to the 180° adjustment option.
€ 17.95
*
Unit price
€17.95 / piece
Ready for shipping, delivery in 48h
---
* Incl. VAT excl. Shipping
See and be seen! The new NEXTORCH UL12 has three light levels:
Normal, white light with 17 ANSI lumens and 18 metres of light range.
Red light - perfect for night vision!
Blue and red flash - the ideal signal light!
Thanks to the robust retaining clip, the new UL12 can be attached practically anywhere: On the tactical waistcoat, MOLLE, on the shirt pocket, or on the baseball cap.
Typical for NEXTORCH: The UL12 is waterproof, shockproof and runs on normal AAA batteries, which it also uses very economically:
The ultra-light UL12 can provide light for over 3 hours at a time with just one battery charge (2 AAA batteries).
In case of accidents, the UL12 can be used excellently as a signal lamp, the blue-red flashing is visible from far away even in bad weather conditions.
Operating the NEXTORCH UL12 clip LED lamp is child's play: Press the switch = switch on, the white light comes on. Press the switch again briefly = the light colour changes to red and pressing it again starts the emergency light - the UL12 flashes blue and red. Press and hold the switch briefly to switch off the UL12.
LED: Nichia 5mm LED
Modes: 17 lm / 3 lm (red) / 3 lm (red/blue flashing)
Running time: 3 h 30 min / 40 h / -- / -- /
Light range: 18 m
Waterproof: IPX-4
Impact resistance: 1m
Power supply: 2 x AAA (included)
Dimensions: 32 mm x 48 mm x 54 mm
Weight: 49.5 g without battery