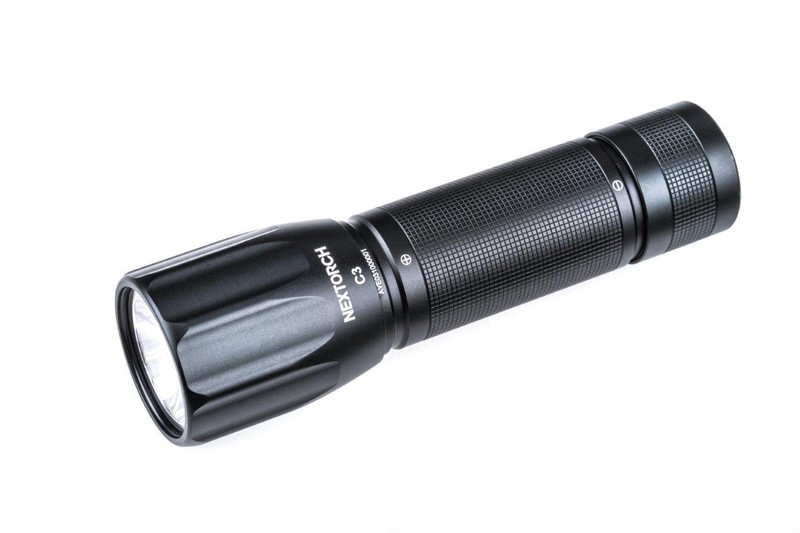 NEXTORCH C3 3AAA LED Flashlight

Low-cost, waterproof LED torch with a range of 190 metres.
€ 38.95
*
Unit price
€38.95 / piece
Ready for shipping, delivery in 48h
---
* Incl. VAT excl. Shipping
It belongs in every household: the practical NEXTORCH C3 LED torch.
Whether it's for a power failure or repair work - this reliable, robust torch always provides the optimum light. Also for on the go, when travelling, camping or walking the dog - the C3 LED torch is a real all-round talent and always a reliable companion.
The maximum light range of this small, reliable LED torch is an amazing 190 metres*.
For close range or as a reading light, the NEXTORCH C3 can easily be dimmed.
Years of enjoyment with this inexpensive torch are guaranteed by the high-strength housing made of high-quality special aluminium.
This practical torch can even be dropped into water - it is guaranteed 100% waterproof up to a depth of 1 metre.
The NEXTORCH C3 comes with batteries so that you can start right away.
Illuminant: CREE® XP-G3 LED
Luminous flux: 380 lm / 200 lm / 40 lm ( according to ANSI )
Running time: 1 h 30 min / 3 h / 30 h ( according to ANSI )
Power supply: 3 x AAA batteries
Lighting distances:190 m/ 130 m/ 50 m ( according to ANSI )
Material: aerospace aluminium 6061-T6
Dimensions: 127 mm (length) x 27.5 mm (body diameter) x 36 mm (head diameter)
Weight: 110 g (without batteries)
Drop height: 1 m
Waterproof: IPX7 ≙ 1 metre diving depth