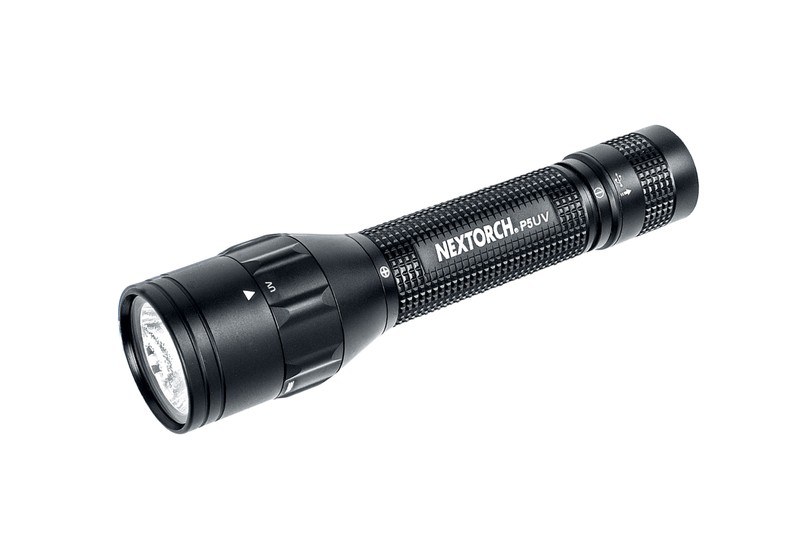 NEXTORCH P5UV White/UV DUAL-LED Technology 800 Lumens / 1,000mW LED Flashlight

The P5UV LED torch with white and real UV LED light - ideal for checking the authenticity of driving licences and much more.
€ 125.59
*
Unit price
€125.59 / piece
Delivery in approx. 4 weeks
---
* Incl. VAT excl. Shipping
If you want less light for objects in the immediate distance, you can simply dim the P5R down. In addition, the P5R hunting torch also has an SOS mode: In the event of an accident, this LED torch lights up the international SOS signal completely automatically; activating it once is enough!
This high-quality LED flashlight P5R from Nextorch comes with a Li-Ion battery. Of course, the P5R is splash-proof and shock-resistant.
LED's : Cree™ XP-L V5 white LED 800 lumens* luminosity
Cree™ UV LED / 1,000mW - 405nm
Light range: 246 m
Operating time: 23 hours
Powered by either 18650 Li-ion battery (included) or two CR123A batteries (optional)
Waterproof: IPX-4 standard
Dimensions: 168 x 40 x 26 mm
Weight: 185 g (without batteries)