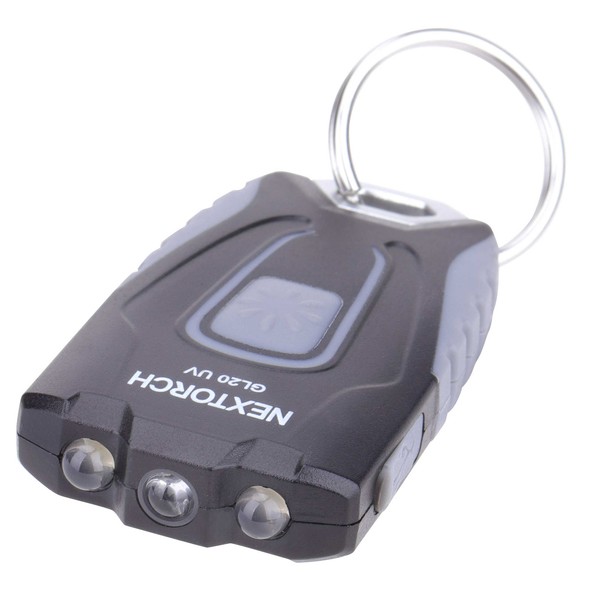 NEXTORCH GL20UV Rechargeable Keychain LED Light with additional 365nm UV Light.

Black light lamp and mini torch in one: NEXTORCH GL20UV
€ 21.95
*
Unit price
€21.95 / piece
Delivery in approx. 4 weeks
---
* Incl. VAT excl. Shipping
The new NEXTORCH GL20UV can be switched to UV light with real 365nm in addition to normal light!
With this special UV light, you can instantly check banknotes, vehicle registration documents and other documents such as ID cards for authenticity - even in daylight!
With the black light of this practical, small lamp, you can even check whether e.g. hotel rooms are hygienically perfect.
The NEXTORCH GL20UV is therefore the perfect travel companion and a great gift for anyone who travels a lot!
In crafts, this ingenious light even helps to cure UV-reactive adhesives and does a great job at detecting cracks.
Besides the UV control light, the NEXTORCH GL20UV has normal white light. The maximum luminous flux has 60 ANSI lumens, so this ingenious light dwarf literally puts many a large torch in the shade! The independently measured light range is an astonishing 23 metres.
The GL20UV can be easily dimmed for close-up use or as a reading light.
Power: 4 lm / 60lm / 5 mW UV light
Modes: High / Low / Flashing / UV light
UV light with real 365nm
Running time: 14 h / 1 h / - / 8 h
Power supply: Rechargeable integrated lithium-ion battery (USB connection!)
Light range: 7 m / 23 m
Material: ABS + TPR
Dimensions: 60.3 mm (length) x 33 mm (width) x 11.5 mm (thickness)
Weight: 17.5 g (with battery)
Drop height: 1 metre
Water resistance: IPX-4 = 1 metre water depth